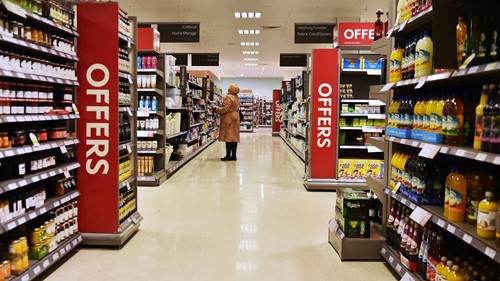 Shopping to keep everyone in your home happy can be expensive., Here are our tips on ways to save money on food and drink.
Don't dismiss supermarket own brands
Avoiding big brands doesn't mean compromising on taste. Buying supermarket basic and budget ranges can produce significant savings.
Big brands, such as Heinz and Kellogg's, are regularly compared against supermarket own brands in taste tests, with surprising results. Own-brand crisps, mayonnaise and oven chips often tasted better than the big-name alternatives.
Get rewarded for your spending
Choose retailers that offer good reward schemes when shopping for treats.
John Lewis and Waitrose typically perform very well in satisfaction surveys, and offer a credit card reward scheme for customers that gives "cash" vouchers as reward.
More here: top reward credit cards
Try cheaper cuts of meat
Picking a cheaper cut of meat, such as braising steak rather than fillet, doesn't mean missing out on a tasty meal. A slow cooker gradually breaks down the fibres in cheaper meat, giving great taste at a lower cost. The best slow cookers are easy to set up, use and clean.
Find out which slow cookers are rated as best buys by Which?
DIY smoothies
Lots of us drink smoothies as a healthy shortcut to our five-a-day portions of fruit and vegetables. But the prices aren't healthy
Buying a smoothie maker or jug blender and blending your own could save you a significant sum if you're a regular smoothie drinker.
Buy in bulk
Bulk buying is an easy way to save.
If you own or manage your own business, it's worth signing up with a wholesale retailer or membership club such as Costco. You can shop online or in the warehouse. Other wholesalers to consider include Makro and Bestway.
Make use of price-match
Tesco and Sainsbury offer price matching against Aldi prices. Tesco also offer some discounts to Clubcard members. Make a habit of swiping your loyalty card or registering your receipt online after every supermarket shop.
Use discount vouchers
There are a number of very good discount deals and extreme couponing blogs that post lots of offers daily on their social media pages. You can save huge amounts by actively searching for those offers.
Don't be fooled by discounts
Special offers, such as buy-one-get-one-free, may offer good value. Be careful, only buy items you actually need and are likely to use. Toiletries such as toilet rolls, toothpaste and shampoo are often good value.
Check the 'reduced' items
If you know you're going to use them before they go off, big savings can be had by buying reduced items near the end of their use-by date. You'll usually find these with a yellow sticker sprinkled throughout the shelves.
Check out the best time to shop to land discounts.
Don't shop when you're hungry
Try shopping after a meal or a quick snack. Shopping while hungry leads to overspending.
Here are some tried-and-tested money-saving tips from real savers from Which?
Keep food fresher for longer
Freezing leftovers rather than binning them saves you money and time, and you've got a ready meal if you don't fancy cooking. Make the most of your fridge and freezer. Storing food properly in your fridge will give it a longer shelf-life.
Cucumbers go soft if the fridge is too cold. Wrap them in a tea towel to keep them crisper. Avoid putting milk in the door rack, as it's warmed whenever the door is opened.